Description
OPA-1230 is high stability output EDFA. The key components of the product are high reliability Pump Laser. A unique APC (Automatic Power Control), AGC (Auto Gain Control) and ATC (Automatic Temperature Control) circuit insures the high stability and reliability output power or gain, the unique optical circuit design ensures the excellent optical performance. The high stability and high precision MPU system to ensure the control, adjustment and monitor are intelligent and easy.
Professional designed GFF (gain flattening filter) with excellent optical path design make flatness and noise reach the best optimization.
The product is specially designed for single-fiber bi-direction system. High isolation B/R filter ensures 16 channels transmission both in red and blue band, meanwhile no interference between Boost and pre-amplifier.
The design of dual Power Mixed and hot swap make it has longer MTBF. Also, the power system can be backup.
Employ the intelligent temperature control system,the fan is on when the module temperature over 45℃, meanwhile it will stop as the temperature is under 40℃, which makes sure the thermal stability and fan's long life-time, meanwhile, the professional air flow design can also ensure the best temperature stability. Intelligent network management system. Perfectly network interface: Ethernet, RS-485 and RS-232 network interface,and the open mib ensure the connectivity with all other network management system.
Features
(1) Low Noise Figure: Typical 4.5dB.
(2) High Flatness: Typical 1dB.
(3) Cover C-Band:Both Red and Blue band can transfer 16 channel signals
(4) High-performance hot-swap dual-pluggable power supply: 110V/220V mixed with -48V
(5) Perfect Network Interface: Ethernet, RS-485 and RS-232 port.
(6) Support Telnet and SNMP network management.
(7) Gain can be adjustable by network and manual.
(8) High Precise AGC and ATC Circuit.
(9) High saturation output power.
(10) Flexible Mechanics and Circuit structure (Module, 1U rack and Gain Block).
(11) OEM is available.
(12) Compatible with Telecordia GR1312-CORE
Technical Specification
Item

Symbol

Unit

Min

Typ

Max

Optical parameters

Operating wavelength1

λc

nm

1529

---

1562

Saturate output power2

Posat

dBm

---

---

20

Input power

Pi

dBm

-35

---

+6

Gain

G

dB

---

20

---

Red Band Range

λR

nm

1548.31

1560.81

Blue Band Range

λR

nm

1529.35

1541.55

Noise figure2

NF

dB

---

4.5

6

Power /gain stability

△Po/△G

dB

---

±0.05

±0.1

Return loss

RL

dB

---

---

-45

Polarization Mode dispersion

PMD

dB

---

---

0.5

Polarization Dependence Gain

PDG

dB

---

---

0.3

Electrical performance

Operating voltage3

Vps

VAC

85/170

110/220

132/264

Power consumption

Pc

W

---

---

18

Environmental performance

Operation temperature

Tw

℃

-5

---

60

Storage temperature

Ts

℃

-40

80

Humidity4

---

%

10

---

85
Remark:
1: Optional
3:110VAC, 220VAC and -48VDC is optional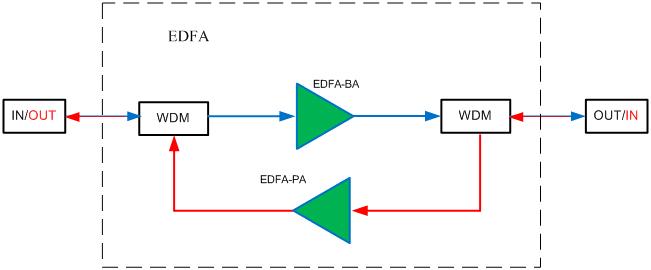 Ordering information
OPA-1230-A-B-C-D-E-F
| | | | | | |
| --- | --- | --- | --- | --- | --- |
| A | B | C | D | E | F |
| Booster amplifier output power | Pre-amplifier Gain | PS1 | PS2 | Fiber connector | NM |
| 10: 10dBm | G03: Gain 3dB | 1:110VAC | 1:110VAC | 1:SC/UPC | 0:None |
| ... | ... | 2:220VAC | 2:220VAC | 2:SC/APC | 1:SNMP |
| 20:20dBm | G33: Gain 33dB | 3:110~220V | 3:110~220V | 3:FC/UPC | |
| | | 4:-48VDC | 4:-48VDC | 4:FC/APC | |
| | | 9: other | 9: other | 5:LC/UPC | |
| | | | 0: W/O | 6:LC/APC | |
| | | | | 9: other | |